In China the question isn't whether you sell online but how. In the fruit trade it pays to understand the nuances of various e-commerce platforms, so much so that Frutacloud CEO George Liu believes 'e-retail'is a better term for the phenomenon which is sweeping its way towards 20% penetration in the fresh produce market.
"If you do business in China you have to use WeChat," said Liu early on in his presentation at the Global Cherry Summit in Chile last week. For the experienced China hands Liu was merely stating the obvious but for others his comment was likely a wake-up call to get accounts with the service, which is like Facebook meets Whatsapp with a digital payment element as well. And in modern China digital payments have become the norm. Liu highlighted there were now 731 million Chinese citizens on the internet, which is more than the United States and India combined. Of these people, 70% make regular payments online. "And with many of these Chinese internet users, they first went online through their mobile phones," Liu said.
"A lot of these people don't have email accounts. So we call these people mobile digital natives – they conduct their daily lives through mobile apps. "It is very common in China that the small merchant will only accept digital payments." He said this evolution meant shopping habits could be tracked, analyzed and charted. "This gives a huge advantage to those people who hold the data. Here's another thing for consideration – the national disposable income growth has been increasing every year," he said.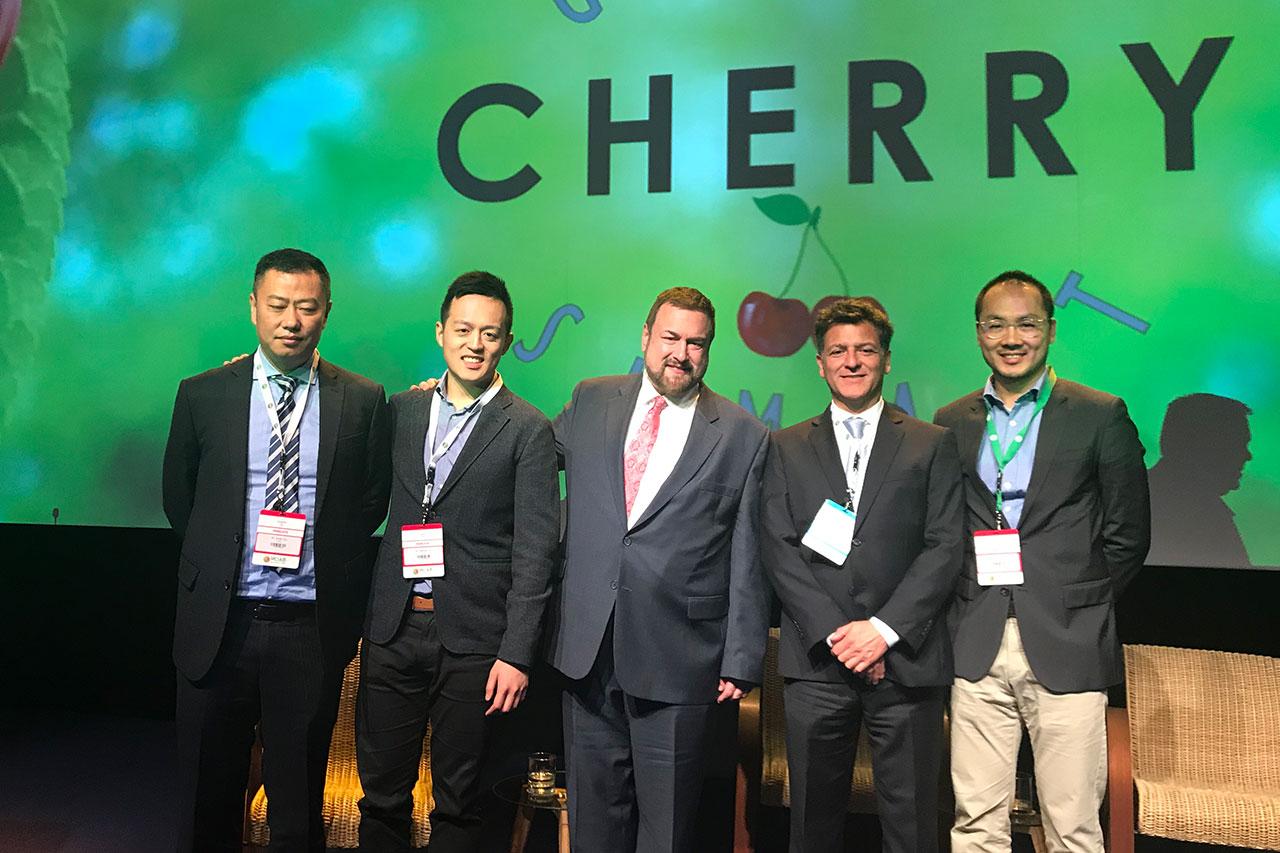 "Some of you may have heard that GDP growth is slowing down in China, but I think this [disposable income growth] is a better indication of the overall growth in China."
Liu pointed to a 9% growth rate in the national resident disposable income level last year, up from 8.4% growth in 2016. "Such high growth of income is what you would call the consumption upgrade," he said. "Consumption upgrade means that Chinese people with money now want to buy better food, they want to buy imported product instead of domestic, and they want to buy fresh fruit instead of mass-produced junk food. "This is wonderful for the Chilean cherry industry."
The disposable income growth measure also helps for understanding opportunities in the interior. It is now common knowledge that fruit exporters need to break through the first tier cities, but Liu made a deeper argument than the sheer business case.
"The disposable income here is rising faster compared to the first tier cities, and the housing cost is more affordable so people have more money to spend on other items," he said. "In the past one of the obstacles in developing market share was the lack of cold chain logistics, but now many players including us are investing heavily in the distribution network. And while in the first tier cities of Beijing, Tianjin, Shanghai, Guangzhou and Shenzhen there are around 78 million people, Liu emphasized the population in second tier cities was around 236 million.
A brief summary of China's e-retail platforms
Liu broke down China's e-retail market into four broad categories that have evolved over time. The original of these is 'comprehensive e-commerce', dominated by Alibaba's Tmall.com and Tencent's JD.com.Both these companies incidentally own or have connections to various alternative e-retail platforms as well as conventional retail, with notable examples being Tencent's partnership with Walmart in China as well as investments in Fruitday.
"However I think this type of [comprehensive] e-commerce is getting very saturated. Growth has slowed down and also the delivery and packaging costs for this type of e-commerce, especially for fresh fruits, are very high," Liu said. He said these services tended to use third-party providers like DHL, with the cost of using a box, a bag and including ice packs making up approximately 30% of the final selling price.
The second category is known as 'vertical fresh produce', involving players like Benlai, Fruitday and Missfresh which "don't sell anything else except fresh product". "Usually they build their own logistics system to deliver better fruit to the customer," Liu said. Vertical integration requires heavy investment in cold chain logistics and warehousing, according to Liu, so players in this space tend to focus on specific geographies, such as Missfresh in the north and Fruitday in Shanghai. "They're facing similar challenges including high building costs, high packing costs so a lot of them are diversifying through acquisition in traditional retail, or they invent something new like a self-service kiosk," he said.
The third type of platform is 'fresh specialty O2O', which stands for online-to-offline. "Here there are two leaders. Pagoda and Xianfeng combined have about 4,000 stores in China. These stores are small and close to residential areas, so in such close proximity they can deliver fruit to their customer within an hour," he said. Liu described the final category as 'new retail', including such outfits as Hema, 7Fresh and Super Species. "This was started only three years ago by Hema Fresh, which is also owned by Alibaba, and this is no doubt the hottest and most competitive retail space in China," he said.
"I think there are three key aspects that differentiate new retail from the regular supermarket – first these stores are built from the ground up to support online development. "They often have a unified imagery management system and some mechanism to support fast pick-up from within the store. Second of all they place a big focus on fresh product and shopping experience. Fresh produce will usually account for more than half of the floor space." But in Liu's view the most important aspect of new retail is that you can only make digital payments, and the experience serves as a hook for mobile digital natives. "Together with all the data they have about you they can give you the most personalized suggestions," he said. "The eventual goal for all the 'new retail'is for you to first experience in store but then for the repeat purchase to go through your mobile phone.
"You place an order on your mobile app and somebody in the store will pick up all your products, put it in a little bag, and it will be transported to one of these guys on a bike or a motorbike outside to deliver to you." Liu said the model required a lot of capital investment, which is why most of the players involved are large companies.
"In the U.S. people have heard big news about Amazon buying Whole Foods but this has happened on a much bigger scale in China."